ABOUT OUR FITTED WARDROBES
Art Carpentry company can make high quality fitted wardrobes classic or contemporary styles, some of which are briefly detailed below.
We can design your wardrobes, bookcases or any other custom made fitted furniture to your bespoke specifications. We are wardrobes experts and know a lot how to maximize your space. We can advise you the best option for you based on your clothes and space size and we can recommend you some style option to match your house, for example if you have a Victorian house with nice cornice, picture rail and skirting then you probably like 'shaker' wardrobe with panelled doors and cornice. We cover almost all London area within M25 and will visit you at your home or office.
Alcove fitted wardrobes either side of the chimney
Victorian style wardrobes
This is very popular wardrobes and we have a huge experience to make them, we call them shaker style beaded wardrobes. It is a good way to add a little bit details on your wardrobe. Made, installed and painted by Art Carpentry Company This is a movie how we fit two Victorian style fitted wardrobes in Croydon, London.
With wood-carved details and mirrored doors
A gorgeous wardrobe with nice wood-carved corbels and French rosette. Wooden cornice, skirting, fluted panels, beaded and mirrored doors with metallic knobs – all those details make the wardrobe looks more traditional and graceful. This is a sloping wardrobe fitted in the loft spare room and contains chest of drawers, many shelves and enough hanging space. Supplied, fitted and white painted by Art Carpentry in Earl's Court,London.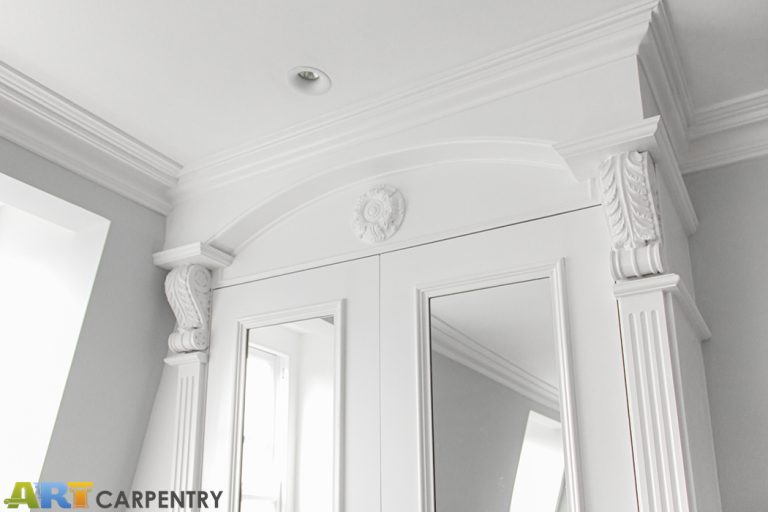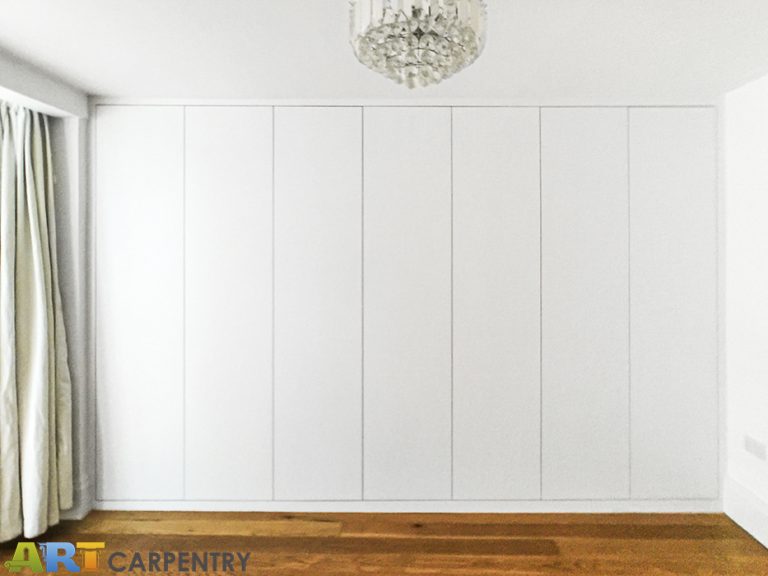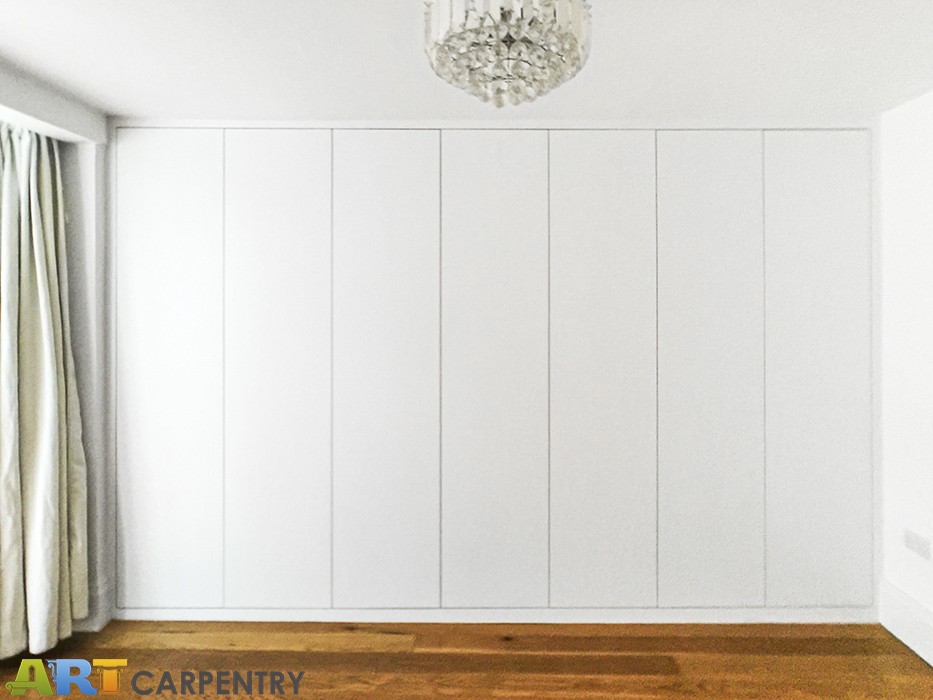 Huge traditional or contemporary style wardrobes
It's usually a bedroom wardrobe and is our range of fully fitted and made-to-measure wardrobes. Made-to-measure wardrobes could be made in a traditional or contemporary style. The wardrobe can be hand-painted in any colour.
This wardrobe helps create such a serene bedroom, the room feels uncluttered with positive energy. We enjoy working closely with our customers to ensure we tailor the designs to their individual requirements and specifications and the result is none of the space in the room is wasted, as the wardrobe usually reaches from floor to ceiling and wall to wall maximising the potential storage. With so much storage available inside the wardrobe, you can ensure your belongings are well organised, everything has a place and you can relax in that knowledge. Our wardrobe interiors are very bespoke ensuring your storage needs are fully met.
You can choose from our selection of veneers. The side & infill panels can be painted or veneered as well. Crown Cut Oak veneer MDF external and varnished simple MDF inside. Matt varnished inside to give a tough but very smooth feel. Perfect for bedrooms with limited space. The veneer could be varnished, coated with bee wax or oiled. Belongings in the wardrobe are well organised and easy to retrieve with the combination of drawers, shelves and hanging space. All our products are fully bespoke and made-to-measure.
Contemporary fitted wardrobe
Good sample of contemporary huge fitted wardrobe with cupboards storage above wardrobes, modern style. Good in new or contemporary refurbished properties. Bi-fold doors are ideal for rooms with limited space. Because each door is made up of 2 panels that are hinged in the middle, a wide area of the wardrobe is opened up when the doors are slid aside, whilst not intruding too much into the room. Approximately size 4.2m long by 2.7m high, 4 coats paint ( 2 primer, 1 undercoat and eggshell finish coat).
Contemporary MDF sloping wardrobe
The wardrobe's doors can be cut on an angle allowing them to fit perfectly around sloping ceilings and awkward spaces. These fitted wardrobes are perfect for loft conversions and attics where angled walls typically leave little storage space. Our carpenters can work around sloping ceilings, alcoves and eaves to create clever storage solutions, reducing clutter and maximising all space available. Each wardrobe for sloping ceilings is made-to-measure and comes in a variety of designs, including traditional and contemporary styles.
Do you have any questions?
020 3290 1355
074 0093 1355
office@artcarpentry.co.uk