Bespoke Fitted Wardrobes
in London
We can design your Fitted Wardrobes, Bookcases, TV Cabinets, Bookshelves or any other custom made fitted furniture to your bespoke specifications.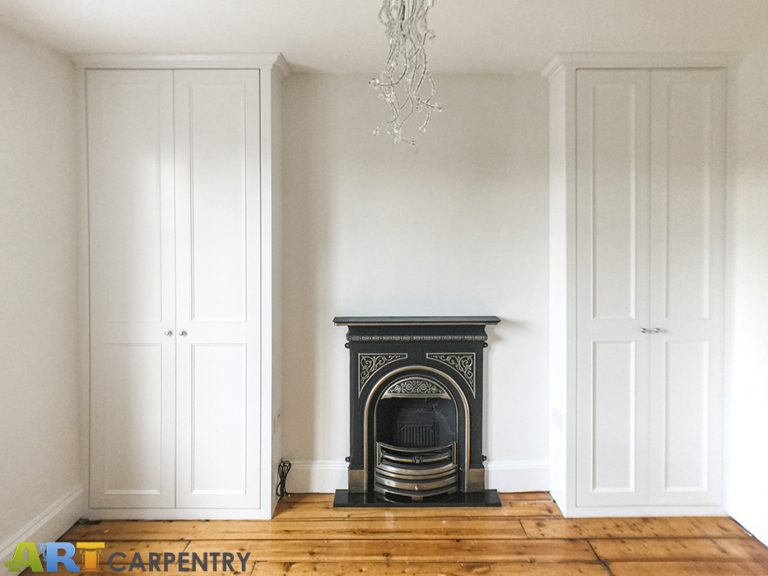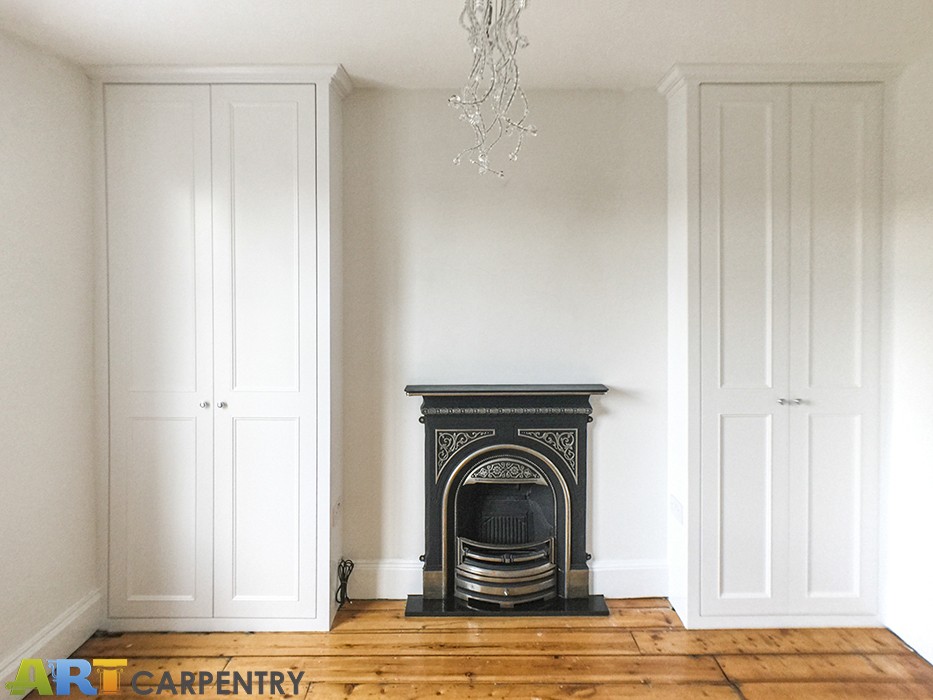 Art Carpentry is a small company of experienced carpenters and decorators based in West London. We work in London and surrounding areas. Art Carpentry Company provides fast, friendly and reliable services covering all aspects of carpentry, bespoke joinery and woodwork painting. We specialise in making built-in and made to measure fitted furniture such as: custom fitted contemporary and traditional wardrobes, cupboards, bespoke cabinets, bookcases, fitted alcove units, bookshelves, floating shelves, shelving units, drawer chests, radiator covers, wardrobe doors etc.
We can make high quality fitted wardrobes in classic or contemporary styles. We know how to maximise your space and are able to advise you on the best options based on the amount of clothes and space you have.
Art Carpentry Company makes fitted wardrobes in different styles: traditional classic Victorian or contemporary modern, some of them you can find below. Your fitted wardrobe will be made exactly to you and we will spend some time with you at home and measure.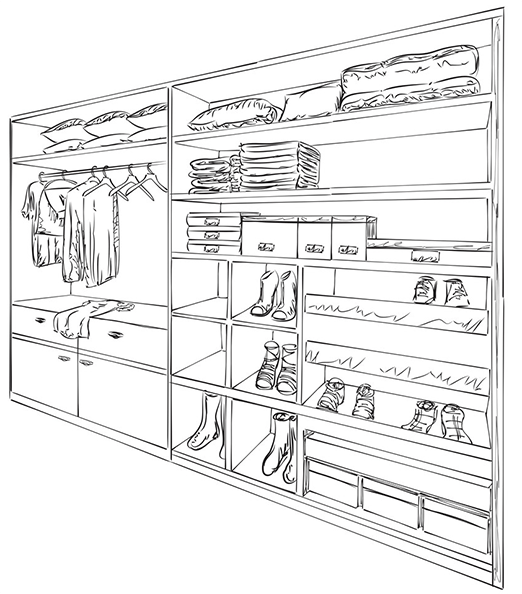 1. Tell us your needs
Let's start with a phone call or an email. This is where we listen to you. Our customers have many requirements when it comes to personal wardrobe space and it's our role to understand and correctly assess those requirements. Then can we determine what is needed and what is possible with the space available.
We will even give you a rough quote so you know what to expect.
2. Project manager's visit
If the estimated price is convenient for you then comes the consultation. A chance for you to meet us and see if we can help you. Here we ask a lot of questions and measure everything.

You call us and can book a design visit and one of our project managers will visit you in the comfort of your own home, take the measurements of the existing space, listen to your requirements and provide you with precise drawings and an exact quotation a couple of days after their visit.
3. Booking a start date and preparing the materials
Once the designs and price have been confirmed by the customer we will ask for a 30% deposit and book you in our time table. Then we start to prepare all the material for your order. Production time for most of the projects will be somewhere between 4-6 weeks.

4. Fitting works
The exact delivery date and the estimate installation duration will be confirmed to the customer in advance. Once the installation is finished the customer will be able to inspect everything and pay the second payment of 60%.

5. Painting works and the final result
Then our painter comes and paints the furniture by hand (roller and brush). After the painting works are finished and the customer is happy with the final result we will ask for the last payment of 10%. Enjoy your bespoke furniture!
We can design your wardrobes, bookcases or any other custom made fitted furniture to your bespoke specifications. Forget about any gaps between the furniture and the walls
Free visit and free quotation
Our project manager comes to your property, take the measurements, prepares the precise drawings with the exact price for a no-obligation.
10% OFF on loft wardrobes
We currently offer 10% discount on all loft and sloping wardrobes. Please contact us for more information. 
Here are a few demonstrational videos of how our wardrobes are fitted.
Lighting inside the wardrobes and shelvings
The wardrobe LED lighting is low energy and low heat so it won't cause harm to you or furniture. Low-level lighting is an extremely useful addition to your fitted wardrobes. Incorporating light into your wardrobe is a clever and stylish way to highlight your clothes and even improve your moods.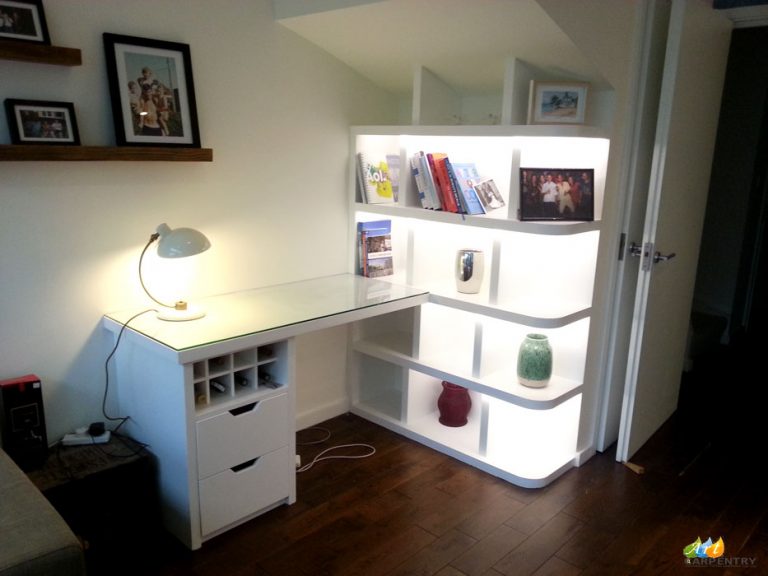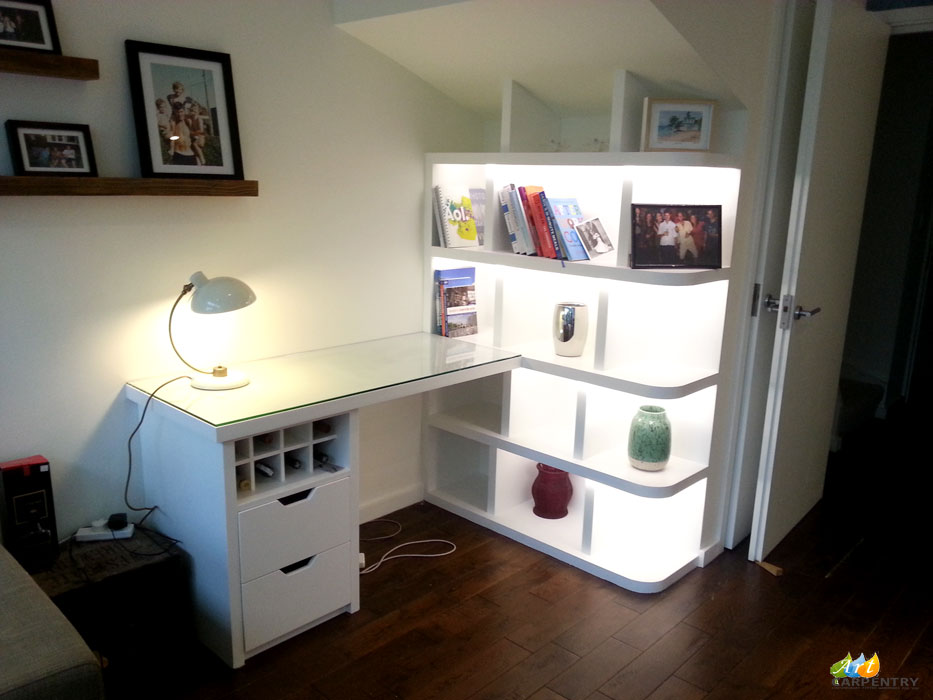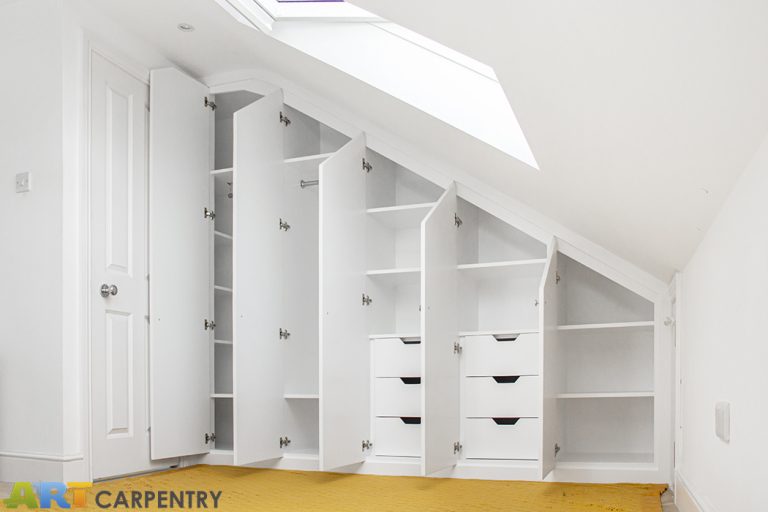 Fitted wardrobes and bookcases design
We can design your wardrobes or furniture to your bespoke specifications. Once the design is agreed and you decide to go ahead with the work we will produce drawings illustrating your design to scale. We can use MDF or Laminated boards for the interiors of our wardrobes and we can equally use real wood veneered mdf which would give you the option for instance to have an oak or ash interior.

Fitted alcove cabinets, Fitted Bookcases, Bookshelves and Floating Shelves
The fitted bookcases that we make can be designed in a traditional or contemporary way, and can be made with standard sized shelves or thick, chunky floating shelves. They can be fitted into alcoves or normal walls. We can work around any shape of the wall. Any of these bookcases can be combined with doors or low fitted cabinets or cupboards. Adjustable shelves with several shelf support solutions are available so you can have the choice of moving the shelves as required.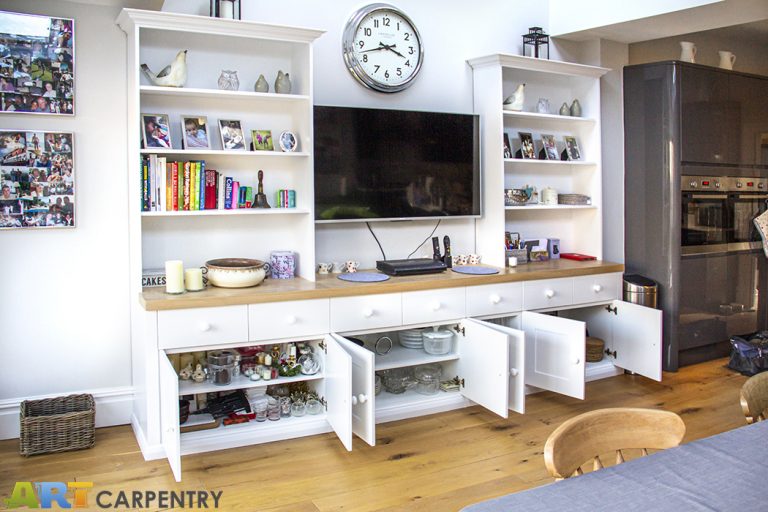 These guys are the most professional carpenters I've ever come across. They have a serious attention to detail, take so much pride in ...
Uniqueness. Art carpentry pay attention to details to create a high quality design. Luckily I found Art Carpentry online.
Absolute pleasure to work with. These guys are very creative, can do anything anywhere, whatever the challenge. Real artists!
Leo and his team did a fantastic job… Leo and his team did a fantastic job of building fitted wardrobes for the main bedroom. They look gorgeous around the fireplace alcoves. A high quality job and a lovely team.
Art Carpentry built two bedroom wardrobes in the alcoves each side of the fireplace for us, and the standard of carpentry and paint finish is excellent. The work was carried out very quickly, which meant the disruption to our lives was kept to a minimum.
We used Art Carpentry for two projects in our house – a built in area in our kitchen to fill an awkward corner with the electricity meter in it and pipes along the back wall; and a large 3m long breakfront wardrobe in our bedroom…
If you have any questions, please fill in the form below and we will be in contact with you.
Call us and arrange a meeting today!
We Can Design Your Fitted Wardrobes, Bookcases, TV Cabinets, Bookshelves Or Any OtherCustom Made Fitted Furniture To Your Bespoke Specifications.